Gaby gave us 2 demo for the price of one at our october meeting.
Gaby nous a donnée 2 démo pour le prix d'une à notre rencontre hier.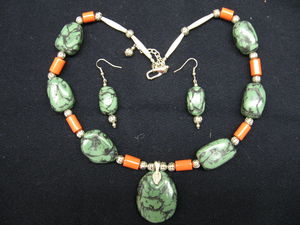 The faux turquoise that she showed us is the himalayan turquoise.
The ingredients: fimo turquoise ( 10 parts) , yellow and caramel ( 1 part each)
Le faux turquoise que vous voyez ici est différent de celui que nous connaissons qui vient du sud des États Unis. Celui dont Gaby fait la démo est celui qui origine dans les Himalayas.
La recette :
Pâte fimo turquoise ( 10 parts) , caramel ( 1 part) et jaune ( 1 part)
Use your wavy blade the bigger one to hack at the clay. You need tiny and various sizes nuggets
Trancher avec la lame ondulé la plus large et faires des petits noyaux de gros à petits.
The messy part cover every bits and pieces with black acrylic clay.
LET DRY COMPLETELY before assembling the clay. Do not use the hairdryer.
Recouvrir ces petits norceaux de peinture acrylique noire.
Laissez COMPLÈTEMENT sécher à l'air avant de rassembler selon la forme désirée.
Imitation of Pandora Beads the rage right now.
Seconde démo une imitation de perles Pandora.
You need silver grommets , 2 per bead, depending on the size your bead can be small or big.Some clay very well conditionned, important. Mini glass beads. Just follow closely the pictures. Don't forget to seal the beads after curing. Futur will do. Hint: You can use all your favorite techniques for that type of beads.
Il vous faut 2 oeillets de métal argent, un peu de pâte (assez molle important pour que les perles adhèrent bien) , des perles de verre. Suivez bien les photos. N'oubliez pas de sceller la perle après cuisson, le futur ou du vernis est parfait. Vous pouvez utiliser toutes les autres techniques connues avec ces perles.
Voila!