Vicki has a tutorial on how to make this bead on her blog. Take the time to visit and learn.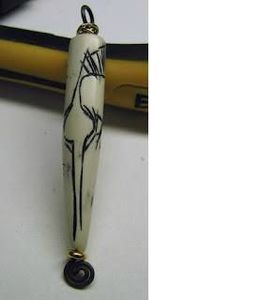 Vickie a un tuto pour faire cette perle sur son blog. Allez voir. Vous pourrez lui demandez le comment en personne demain si elle y est.
http://www.claymagination.blogspot.ca/
Great tutorial Vicki!
mercredi 9 octobre 2013
Gaby did a terrific demo about different ways to make hollow beads. It was most interesting.

More info at artybecca.blogspot

Next meeting will be Nov 5th with Georgia doing the demo.

For the Dec 3rd meeting, we will have a dollar store gift exchange of something to use in connection with polymer creations.


Gaby a fait une démo du tonnerre sur les perles vides.
Pour une des techniques celle avec le avec papier recouvert allez voir le site mentionné plus haut.
Notre prochaine rencontre aura lieu le 5 novembre et Georgia fera la démo.
Pour la dernière rencontre de l'année 2013 qui aura lieu le 3 décembre, il y aura un échange d'objets du magasin du dollar qui peut être utilisé avec de la polymère.
dimanche 6 octobre 2013
To make hollow beads with Gaby bring:
Different ways of Reducing Weight of Bead

To work along, bring enough clay for all samples and
1) using aluminum foil - aluminum foil
2) using foam peanuts or ("Bamba") - foam peanuts that dissolve in water
3) hollow beads - different sizes of dowels
4) lentil beads - light bulb
5) paper shapes (as bead armatures) - light cardstock, sharp scissors
6) wire armature - 22 g. copper wire, 18 g. copper wire


Pour essayer avec Gaby apportez
1. Du papier alu
2.Des peanuts d'emballage se dissolvant à l'eau
3.Des manches en bois de diverses grosseurs ( de vieux manches à pinceaux par exemple.)
4. Du carton léger pour faire les formes ciseaus et crayons.
6. Du fil de métail et vos outils. 22 ou 18 en cuivre.
mercredi 28 août 2013
Louise is doing a crackle demo.
Louise fera diverses démos de craquelés.
If you want to try:
If people want to try my recipies they should prepare a few small sheets of no 1 clay.If you want to try everything I would say 5or 6.
Something to clean your hands (I am a fingers on person) , a brush if you are a neato.
If some of you are brave enough to bring inks you can too.
If you have a small container to put water in you woul have more fun.
Nothing will be cured on the spot we will play with different crackles some will surprise you.
So a box or a plastic bag or more to hold your new uncured treasures would be appropriate.
Pour participer:
Préparez quelques petites feuilles au plus large de votre MAP.
Un contenant pour tremper votre pâte ( Hein?)
Des lingettes si vous travaillez avec vos doigts ou un pinceau
Des sacs pour y mettre vos feuilles qui ne seront pas cuites sur place.
Préparez-vous il y a des recettes pas mal étranges.
dimanche 4 août 2013
Did you know that The BNQ or the Great Library gives you the possibility, if you are a member, to read Polymer café online?
Try it!
Saviez-vous que vous pouvez en vous abonnant à la BNQ ( la Grande bibliothèque ) à distance lire en pdf la revue Polymer café?
Je ne suis pas folle de cette revue depuis qu'elle est 6 fois par an mais je trouve que pour connaître les artistes de la poly c'est intéressant .
Mes revues favorites sont : The Polymer Arts; From polymer to art.
En France une nouvelle revue vient de paraître pas encore disponible ici cependant Polymère et co.
Bonne lecture!
mardi 30 juillet 2013
Maybe you have never thought that there were other clays then Fimo, Premo, Sculpey or Pardo. Well there is Cernit is the name.
They have a wide range of colours and types of clay. In Québec you can find them in Laval.
http://www.sial-canada.com/produitsList.php?nId=4&n2nd=378&n3rd=456&nSegId=3
Vous ne connaissez pas la pâte Cernit? Mais vous avez entendu parlé de Fimo, Pardo, Sculpey et Premo. Plus difficile à trouver. Je vous mets le lien si vous êtes intéressées.
They have a wide range of colours and types of clay.In Québec you can find it here
http://www.sial-canada.com/produitsList.php?nId=4&n2nd=378&n3rd=456&nSegId=3
Mes propres expériences ne sont pas concluantes. Trop molle entre mes mains pour le modelage. Les couleurs toutefois sont superbes. La pâte est très souple , parfait pour les bijoux. Les prix me semblent similaires aux pâtes connues. Le plus ce sont les couleurs fluos. Je ne les ai pas vues cependant sur le site mentionné ci-haut. J'ai utilisé de vieux pains et je certifie qu'ils demeurent souples longtemps.
Un site français publie des tutos sur pdf réalisés avec cette pâte.Joli n'est-ce pas?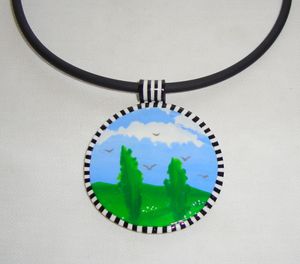 http://cernit.canalblog.com/archives/2013/07/30/27748735.html
jeudi 11 juillet 2013
Si vous êtes intéressées aux pan pastels vous les trouverez ici. Ils ont la ligne complète. Ça n'est pas donné mais ils en vendent quelques uns aussi indivisuellement à environ 8$
http://www.scrapbookcentrale.ca/indexFrench.htm
If you are interested to buy the Pan pastels line they have them here. Quite expensive if you buy the whole series . If you like them go for it! They do have a few individually sold for around $8.
http://scrapbookcentraleblog.blogspot.ca/
mardi 18 juin 2013
You want to expand your creative juices I would suggest that you go and use the offer of some sample issues of Polymer clay arts.
http://www.thepolymerarts.com/SampleIssues.html
Gaby and I vouch for it.
Vous désirez une revue qui stimule votre créativité cette revue en plus de parler polymère suscite votre questionnement artistique. Je regrette c'est en anglais mais c'est la seule du genre sur le marché. Je la comparerais à cours sur Voilà!
C'est le temps de se procurer ces échantillons à bons prix.
Gaby et moi sommes fan.