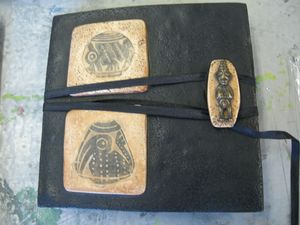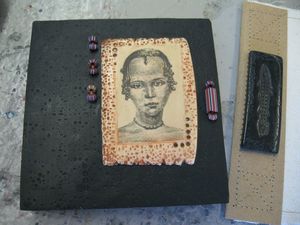 Sheryll Khan Of Impresse me (http://impressmenow.com/) et Dayle Doroshow sont les artistes des 2 suivants.
Ruth loves to make books She showed us how to use those tiles we have tucked away . Transfers, or stamps her imagination flies.
To do those books you need 2 sheets of cured clay of your choice, transfers, embellishments , ribbon or elastic for closing, glue ( white or E6000). The sheets can be a single thickness ( largest of your pasta machine, or double , 1 thick the other thinner or 2 number 3 thickness depending on your project).
Bristol paper. Bone folder. A ruler. Something to make holes.
************************************************************************
Ruth nous a montré comment faire des petits livres.
Les étapes: fabrication de 2 plaques pour le devant et le derrière. Épaisseurs variantes selon ce que contiendra le livre et sa grosseur:
1 épaisseur sur votre machine pour un mini livre, 2 épaissseurs pour un plus large ou 2 épaisseurs de numéro 3 assemblés. Attention aux bulles quand on a 2 épaisseurs quand on les assemble. Bien presser ensemble. Les pages sont faite à partir d'une feuille de bristol. Ruth utilise surtout du noir qui fait très classe.
De la colle blanche ou la E 6000
Une règle et un brunisseur ,quelque chose pour percer.
Plier le pâpier en accordéon. Coller .
Voir ci-haut les exemples de Ruth et ceux qu'elle avait Sheryl Khan et de Dayle Doroshow .