Our demo master tonight was Anne Nishmas/ Notre démonstratrice ce soir était Anne Nishmas.
Her demos are how to use wires with polymer clay . The following photos show the different beads that can be done with wire./Elle nous fait découvrir l'art des fils métalliques. Pour vous donner une idée de ce qu'elle nous montrera voici des images de ce qu'elle a réalisée.
This technique is wire that is rolled like when you make a ball of wool. Cette technique consiste à faire comme lorsque vous faites une balle de laine.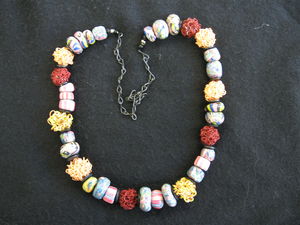 This technique goes like this: you coil the wire on a mandrell or a needle , you take it off, you unravel then make a ball with the wire. Ça consiste à enrouler le fil sur une aiguille à tricoter ou un mandrin et de le retirer du mandrin de l'étirer puis de l'enrouler en balle.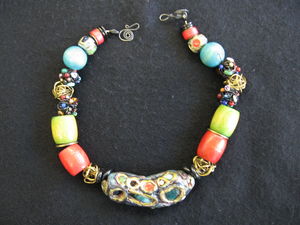 Combining wire beads it with polymer clay beads. Combinant vos perles de métal et celles de polymère.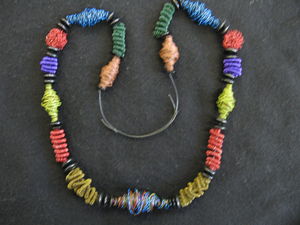 Using different types of wire you get different beads. En utilisant divers fils vous avez différentes perles.
This technique is a variation on the mandrell twist added on a base. It was not showned tonight. Cette technique plus avancée consiste à enrouler sur un autre fil de métal, des fils enroulés au préalable avec un mandrin. Cette technique ne fut pas démontrée ce soir.
L'outil utilisé est celui-ci et vous pouvez le trouver chez Omer.
Eye candy, Anne was wearing this. Du bonbon pour les yeux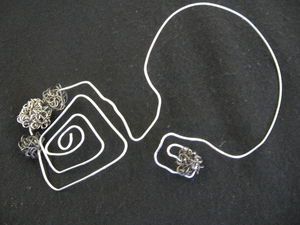 This is just to enjoy . Maybe at her next demo she will explain this. Rincez-vous l'oeil .Ceci sera peut-être sa prochaine démo.
Variations on a technique/ Variations sur une technique
Using your wire you can put beads as you go along and roll the wire to make a ball.
En enrobant votre perle de fil vous pouvez y ajouter à mesure que vous roulez des perles.
To make this perl you need to have 10 beads bicones or round.
On a 18 inches wire ou put in the center 3 beads. Then you add a fourth bead and you pass both wires inside. This makes a square. Then you add a new bead on each side. Then you add a third and pass both wires inside.Repeat till you have used all 10 beads. Pour faire une perle plus ronde faites ainsi 10 perles bicones ou rondes un fil d'environ 18 pouces . Vous tournez le bout du fil pour bloquer vous enfilez 3 perles dans le centre du fil. Vos perles doivent pouvoir recevoir 2 fois de fil dans le trou vérifiez avant de débuter.Vous en prenez une 4ième perle dans laquelle vous passez les 2 fils . Vous serrez. Ajoutez une perle dans chaque bout de fil, ajoutez la 3ième dans laquelle vous passez les 2 fils.
Répétez ce patron jusqu'à ce que vous utilisiez toutes les perles.
Anne donne des cours au Centre Cummings for seniors si vous désirez en apprendre plus sur les techniques de fils de métal et de récup. Dommage il faut avoir 55 ans et plus.