Metal sewing machine bobbins beads/ Perles sur des bobines de machine à coudre en métal.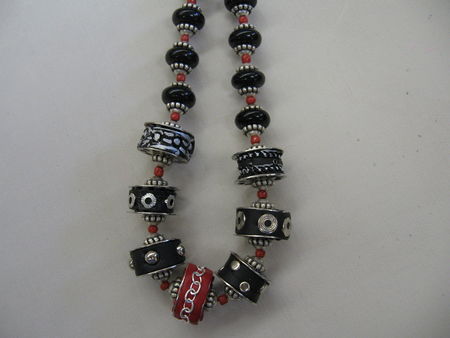 You need sewing machine bobbins found at some dollar stores or walmart in the sewing sections.Vous trouverez ces bobines chez certains dollarama ou walmart dans la section couture.
Clay any colour, you hands, blade. Pâte au choix , vous pouvez même utilisez vos rejets de pâte, vos mains, une lame.
Prepare your clay. You can prepare snakes or flat sheets . Any thickness will do. Préparez votre pâte en colombin ou en feuilles .Épaisseur ici j'ai utilisé la plus large. Le colombin doit être applati avant de l'insérer entre les travées.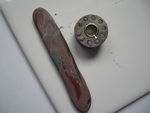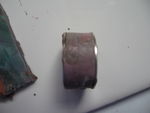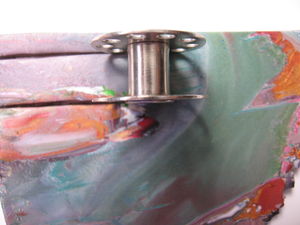 To have right size just slide your bobbin on the clay.Pour mesurer roulez votre bobine sur la pâte.
Roll your clay inside the bobbin . You can make it to go level with the bobbin or a little lower . Enroulez la pâte dans la bobine, lissez au contact final. Vous pouvez remplir au complet ou laisser un peu de métal au goût.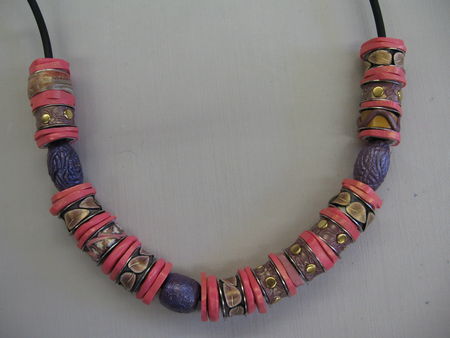 sur cette photo la pâte va jusqu'au bord.
You can push more clay in and let it go out the side holes for another effect.Un autre effet est créé si vous enfoncez plus la pâte, elle sortira des trous de côtés et vous pourrez avoir un autre design.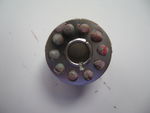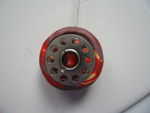 this is another bead using the bobbins as textures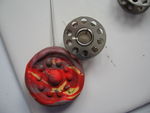 a metal piece was inserted in between the bobbins to make a textured pearl earing ready to hang. Les bobines peuvent aussi servir de texture sur une surface ou sur les 2 côtés pour faire une bo. Passez un fil de métal et voilà une perle pour vos bo réalisée en un tour de main.
Carole showed us many ways to decorate the clay, with bead caps, studs, chains, textures ( even using the bobbins themselves). You can use tiny canes to add on.
Carole nous a montré diverses façons d'utiliser les bobines pour créer des textures et de perles.Il ne vous reste plus qu'à mettre des cannes des textures, ajouter des chaînes . C'est le temps de fouiller dans vos objets.
Stringing trick/Trucs montage:
Carole suggests using a tube bead or a seed bead to put in the middle hole to stop the bead from spinning. Suggestion de Carole utilisez une perle tube ou une perle de verre dans le trou central pour empêcher la perle de tourner.
Something else to do with you bobbin. Make a ball of clay press it between 2 bobbins. There you have a flat textured bead for an earing maybe, a button?Put a piece of metal in the ball of clay before squeezing your bead is ready and threaded. Les bobines peuvent aussi être des outils à texture: faites une boule pressez entre 2 bobines, Voilà une perle texturée, un bouton , des b.o.? Si vous mettez un fil de fer dans votre pâte avant de presser votre embout sera déjà prêt à cuire et à monter.
To cure string them on a bamboo skewer held at both end by your plate or on two balls of clay. Foolproof method.
Pour les cuire mettez-les sur un bambou maintenu sur les côtés de votre plat ou plantez-les dans 2 boules de pâte. Elles cuiront toutes également
This is a foolproof bead any thing goes have fun. Une perle réalisable par tous sans faire d'erreur.
Il semble que ce tuto se trouve sur dans le Beads and Buttons de juin 2010.You will find the original tutorial in the June 2010 Beads and Buttons.