Vickie talked to us about how a guild should work. This subject will be discussed also at the June meeting. There is a lot of things to think about .Your active participation is requested if you want the guild to thrive and prosper.
Evelynne showed us how to make textures sheets and how to make broches or pendants from them.Her demo was isnpired by Helen Breill.
To make the texture sheets you need a flat square of clay. With wavy blades or or your regular blade ou make slices and apply them on the flat sheet. Your clay gun is also a great tool to help you make those sheets.
Here are a few exemples.
The middle on is the one made with the wavy blade and used for Evelynne's demo.
To make the Focal beads you will need:
perl ex, clay the colour approching the perl ex used, pastamachine, your texture sheets, cookie cutters , buttons.
Condition clay and make a sheet n.2 on your pasta machine or second thickest setting.
Texture using the radiating texture sheet ( don't forget to use water or other repellent)
Place sheet on a paper face down, cut a shape with the cutter of your choice.For a nice bezel put saran wrap on the clay before cutting. Make the center hole the same way with a smaller cuttter. Tap down edges to make them smooth. Make another circle bigger than the hole made.
Apply perl ex usign many colours using finder or brush . Make a pleasing blend.
If you will be using jump rings mark the clay before curing.
Apply focal bead ( big circle or shape) on a light bulb. Evelynne covers the light bulb first with liquid clay.
Bake 30 minutes at 275 F and let cool in oven.
Protect perl ex powder with Futur floor polish.
Take the cured shape, apply some liquid clay around the hole in the back. Place the shape already cut to fill the hole don't forget to has to be bigger to fit properly.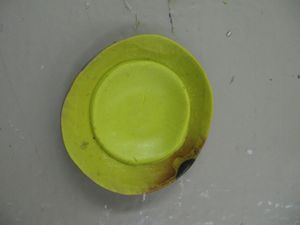 If you want to have a metal piece in that center, mark the place using the button shank or impress the bead on the raw clay. Remove button. Put on a batting or use baking soda . Cure 30 minutes, let cool.
Cover the back of the bead with liquid clay and apply a textured backing of clay to your piece, the same size as the first one. Cure again for 30 minutes. Glue button and apply varnish or future o the back.
Turn over, apply varnish or Futur.
You can also make a channel in the back of the bead.
Some of her finished pieces to look at and be inspired.