Gaby showed us how to do Klimt a la Gera Scott Chandler while making a blade holder. Gaby nous a fait une démo de la technique de Gera Scott Chandler et sa façon de faire du Klymt , appliqué sur un porte lame.
You need the following: pasta machine or roller,your blade, translucent clay , gold 2ounces each, metallic sheet ,sparkles,scrap canes, bits of clay, an extruder and the shape to mold you blade holder. You can find the shape at Bureau en gros or if you are lucky your dollar store. Optional: inkpad and word stamp.
Il vous faut: votre machine à pâte ou le rouleau, la lame, 2 onces de trans et de doré, des restes de cannes , des brillants, feuilles métalliques, votre fusil à pâte et la forme pour mouler votre porte lame.Vous trouverez cette forme chez Bureau en gros ou à votre dollarama si vous êtes chanceuses. Optionnel: un tampon d' encre et une étampe avec un mot.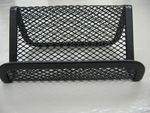 Step one: prepare a sheet of gold clay to cover a paper template measuring 9 by 41/2 inches.
Préparez une feuille de pâte or pour la base du porte lame. La feuille doit avoir la mesure suivante pour bien recouvrir 9 po par 41/2 po.
Step 2 put a thin sheet of translucent clay ( thinnest you can have on your machine.) on the gold sheet.Press well to take out the air bubbles with the roller.Start from the center to the outside. Préparez une mince feuille de trans ( le plus fin possible selon votre machine). Appliquez et pressez sur la première feuille . Attention aux bulles d'air . Partez du centre vers l'extérieur pour les éviter.
Step 3 Add bits of the metallic sheet on the translucent sheet. Ajoutez sur la feuille de trans des morceaux de feuilles métallique.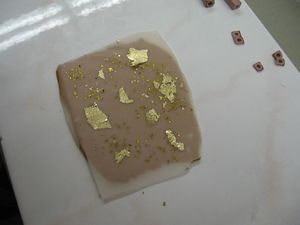 Step 4 Add another sheet of translucent . Do the same thing as step 2 .Ajoutez une mince couche de trans et refaites la même chose qu'en 2.
Step 5 Add bits of canes and bits of clay done with the extruder and sparkles. Ajoutez de fines tranches des vieilles cannes, de petits morceaux de pâte, brillants.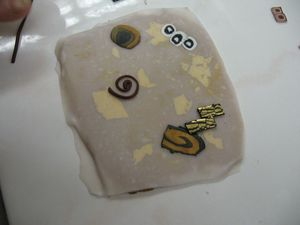 Step 6 Cover again with a thin sheet of translucent. Check for air bubbles .Press to get everything together with the roller.You can add at this stage a word with the stamp and ink. Position on the shape to make sure your word is well positionned.Recouvrir a nouveau d'une mince feuille de trans. À cette étape vous pouvez imprimer votre mot après l'avoir bien encré. Attention: placez la feuille sur le moule avant de faire cette étape afin de bien placer le mot.Retirez, placez et remettez sur la forme.
Step 7 Mold the sheet on you shape, trim if necessary ans cure 275 for 45 minutes. Enlevez la pâte excédentaire avec la lameCuisson dans un four de 275 durant 45 minutes minimum.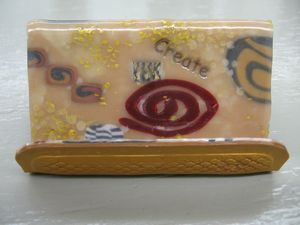 Et voila!
For the person who asked about the extruder or clay gun
http://www.glassattic.com/polymer/claygun.htm
or in pictures in french to make the hole
http://paroledepate.canalblog.com/archives/2009/11/03/15663965.html
or everything on the clay gun lool under clay gun
http://paroledepate.canalblog.com/archives/index_general/index.html
Looking for a technique my blog might help you