Did we ever get lucky this time 2 demo for the price of one. The student and the teacher...From tiny foodstuff to faux ceramic.
Nous avons été gâtées à notre rencontre Julianne et Manon ont été nos 2 démonstratrices.Les Agrumes mini de Julianne et le faux céramique de Manon.
Canne citron/Citrus cane
1. Mélanger la pâte jaune jaune cadmium ou si vous utilisez Studio la Sunnsyside up avec la pâte trans , 1/2 de chaque environ. Julianne y va souvent au pif. Mix cad yellow or Sunnyside up studio clay with trans 1/2 and 1/2.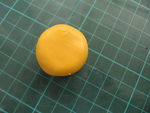 2. Façonnez un petit capuchon de pâte, divisez-le en 6 .Create a little flat log .Cut in 6 pieces.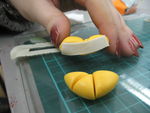 3. Insérez dans les incisions des languettes de pâte blanche à une épaisseur assez mince sur votre machine. Rassemblez le tout. Divide into 6 parts, insert a thin white sheet the same height as your plug between the slices. Put everything back together.
4. Entourez la canne obtenue avec une couche de blanc pur épaisseur moyenne mince ,puis une autre de jaune pur à la plus large épaisseur.Make another medium thickness sheet around the plug.Add a thicker sheet of pure yellow over the cane.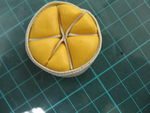 5. Réduisez.Laissez reposer si votre pâte est molle puis tranchez. Reduce . Before cutting let rest if your clay is soft.
6. Percez et placez votre aiguille à perle. Fixez à l'apprêt sélectionné. Make a hole , cure, then put on your bangle.
Tuto Fraise/ the Strawberry
1.Préparez votre pâte rouge. Ici Julianne a utilisé la fimo glitter red. Prepare your red clay,here julianne used fimo glitter red but any red should do.
2. Façonner la pâte en forme de triangle avec angles arrondis .Make a ball in the shape below like a gumdrop.
3. Avec le cure-dents placé pointe en haut et tige vers le bas faites de petites marques sur la pâte. With a toothpick indent littles holes in the clay for the seeds.Follow the following photo to place the toothpick the right way.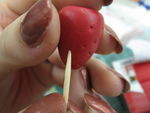 4. Les feuilles sont réalisées avec de la pâte vert clair . La forme est celle d'une étoile ( Julianne utilise un bouton pour cette forme . Un emporte-pièce fonctionne aussi.Un petit morceau pour la tige.Attention de bien presser ou utilisez de la pâte liquide pour bien adhérer.Leaves are made with green clay and a star shape. Make also a little stem. You can also decorate the sides and middle of each leaf with the toothpick.
5. Cuisson.Cure
Tuto orange/ Orange
1. Préparez votre pâte orange( 1/2 orange et 1/2 trans). Prepare your colour( 1/2 trans +1/2 orange)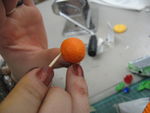 2. Façonnez une boule, faites la peau du fruit en créant de petits trous avec le cure-dent.Placez aussi un trou central sur le dessus.Make a ball. Create skin using a toothpick and prick littles holes randomly.Make a bigger hole on top in the middle of the ball.
3.Préparez 2 feuilles ainsi :façonner 2 petites boules vertes en forme de perles ) . Avec le cure dents fairtes des petites marques sur les côtés et une nervure centrale.Placez de chaque côté du trou central sur le dessus de la boule .Prepare 2 leaf modeling a ocal shape. Flatten. Make indentations like for the strawberry.Place on each side of the hole on top. You can place your finding also.
4. Cuisson.Cure
Tuto citron plein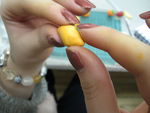 1. Façonnez la pâte en plaçant vos dougts aux 2 extrémités comme sur la photo. Roll the clay and play with your fingers pinching the ends to get the shape shown.
2. Placez les petits trous de la peau, comme pour l'orange.Make littles holes lke for the orange.
3. Ajoutez le clou de perle à la fin en l'enfonçant. Add the pin pushing it through.
4. Cuisson.Cure