Our first meeting for 2011
If you want to do it again for those who were there or those you weren't here is the link on Desiree McCrorey's page
http://desiredcreations.com/howTo_CACasablancaBead.htm
Je regrette je ne traduirai pas ce tuto. Je n'en ai pas fait la demande à l'auteur. Les images parlent d'elles-
mêmes.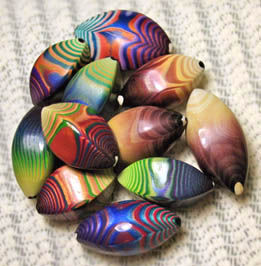 We also had many discussions on the different methods that our teacher Suzanne showed us : how to use the scrap clay from that demo, many exemples on thumbling ,sanding the clay, finishes she tried. Here is a link for thumblers http://www.canadiantreasureseekers.com/
En plus de nous montrer la technique nous avons eues aussi plusieurs trucs sur comment elle a essayé diverses façons de finire ses perles: en utilisant un polisseur à pierres avec des roches ( trouvé chez Dolarama) remplis au trois quart d'eau et qui fonctionne durant 7 hres; vernir ou non; appliquer de la pâte liquide avant cuisson; polir avec un jeans sur un dremel, juste frotté avec un jeans, ou encore le jeans dans la machine polisseur de pierres.
Two neat tricks: her manual sanding using a paint stick covered with sanding paper, with each grit mentionned on the stick.
Comment utiliser des batons pour brasser la peinture, les entourer de papier à sabler, mettre le no du graid sur la manche, parfait pour les plaques.
Her container for her tools found in the painting section at Omer. Un contenant trouvé chez Omer dans le coin pinceaux pour tous mettre vos outils lors des rencontres. Pas cher $3,75
How to use an acrylic plaque to make lentil beads.You will find different sizes in the scapbooking section or somebody said she saw some at Dollarama.
Comment faire des perles lentilles en utilisant les plaques de plexi trouvées dans la section scrap ou encore chez Dolarama selon une de nos membres.
The guild has two new titles in the guild library.They are now in our library list. Go see in our library list.
La guilde a 2 nouveaux titres que je mets dans notre bibliothèque.Allez voir dans le dossier