We had a great demo on "chatoyant" effects and imitative techniques during our monthly meeting.
Gail gave us recipies and a lot of pertinent info on mica shift , how to make chatoyants imitations effects, which clay has the most mika particles.
She gave me permission to put her recipies on line on our bog.
I will wait to receive the full info to put it up on the blog.
Tricks :Louise L gave us her trick on how to use books for inspiration. She brought with her Bijoux bakelite. english cover , hers was the french version. Tony Grasso ( author) Books and co, 2001 for the french version. The english version is 1991.
It's a shame you cannot see the wonderful pieces she brought to show at the meeting.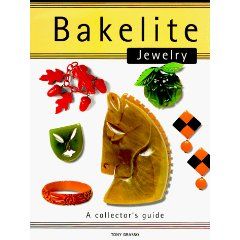 She showed us this title and I suggest also looking up the following titles.
Bakelite is a plastic compound popular in the 1920, now collectibles.
Since I am into books I would like to tell you we have received a new title in our Library.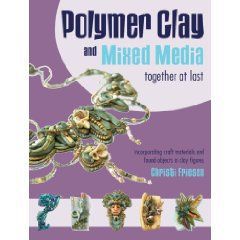 ########################################################################
La rencontre de mars fut centrée sur l'effet chatoyant que la pâte perlée permet d'obtenir.
Gail nous a donne plusieurs informations sur les pâtes , les marques, les mélanges des couleurs et a donne des recettes pour faire des pièces incorporant imitation et effet chatoyant.
Les recettes nous seront données bientôt et je pourrai vous les montrer sur le blog avec sa permission.
Louise L nous a fait découvrir comment elle utilise un livre comme inspiration. Regardez plus haut pour voir les titres et images.
Nous avons un nouveau titre dans notre bibliothèque voir plus haut.