La démo de Madeleine débute sur une perle de Carol Blackburn vu sur sa page http://carolblackburn.co.uk/beads2/beads2.htm
et une part de tuto de Maerys ( Maryse Lebail).
Madeleine a travaillé dur pour nous rendre facile l'apprentissage de ces perles . Elle nous en donne plusieurs versions.
Quelques colliers à faire baver d'envie:les photos ne sont pas terrible vous savez comment l'éclairage est terrible à la guilde.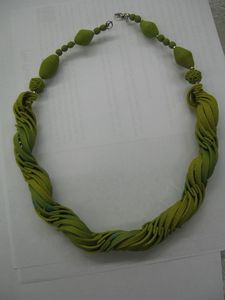 Madeleine was our demoer this month she showed us her take on Carol Blackburn bead. She also used Maerys tutorial as a base. The first doesn't have a tutorial and Maerys has only part of one .http://maerys58.canalblog.com/albums/tutoriels/photos/60469960-tuto_coquillage_16.html
For those who might think she used a done tutorial I let you know she doesn't understand English. This is the result of her own experimentations.
You will need: Il vous faut:
wire.( Depending on the length of your necklace it could change. The measures are given here for one bead or two.) about 10 inches or do. Make a loop at one end.
Du fil de métal: pour essayer prenez un bout de fil de 10 pouces environ et faites un anneau à une extrémité
Fresh clay any colour. Madeleine suggested making the first tryout from a skinner blend.
De la pâte poly. Plus elle est fraîche mieux c'est Madeleine utilise Premo.Pour votre premier essai faites un skinner blend.
A glass container, ( here she used a spice bottle from Dollarama.) Un contenant de verre. Madeleine utilise les bouteilles à épices du Dollarama. On peut y mettre 30 languettes d'un coup.
A marxit to measure or a ruler. Un marxit ou une règle.
A template using a waxed surface to measure the strips.Madeleine suggest using strips 11/2 or 13/4 inches.Faites des gabarits pour mesurer vos languettes. Madeleine suggère 1po 1/2 et 1po 3/4 de largeur
How to:
Prepare your base using the template.Like I said before a skinner bend is easier to follow for the first tryout.
Mark the clay using the marxit tool. Madeleine suggest using 5mm or 7mm.as width(?) You do both sides be careful to allign proprely.
Péparez votre pâte en suivant le gabarit.Comme mentionné plus haut un skinner blend est plus facile pour essayer au début.
Avec votre marxit ou une règle marquez votre pâte. Madeleine suggère utiler les mesures de 5mm et 7 mm pour faire vos languettes.Faites les marques en haut et en bas pour bien aligner.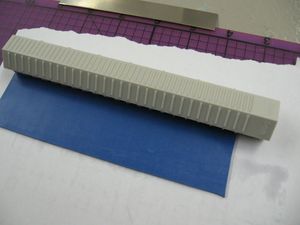 Make holes at both ends. Take in consideration the size of you wire. Too wide makes the bead wobbly.Cut and make the strips.
Faites les trous aux 2 extrémités. Attention de ne pas les faire trop gros pour le fil de métal que vous utilisez. Un trou trop gros fera bouger la perle . Coupez les languettes le plus droit possible.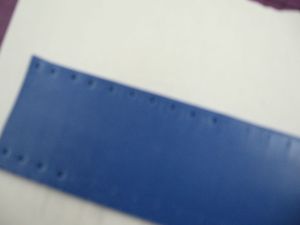 Place the strips on the container and cure.Check On prend la première languette et on l'enfile dans le fil de métal en partant du dedans de la languette.holes. Placez les languettes sur le contenant et cuisez. Vérifiez les trous et repercez si nécessaire.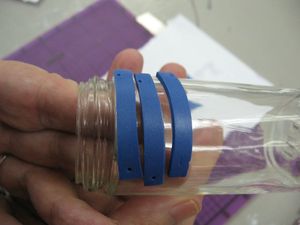 Make more strips that what you need because they do sometimes break. Faites plus de languettes que requises car elles peuvent briser...
Assemblage:
Taking you wire you enter the strip from the top. For the first bead use 10 or 11 strips.
Taking the first strip you pass it in the wire going from the inside going outside.
Do all the strips except the last one. Now you take 11 more and put them the same way on the wire, from the top. Then you take the eleventh that was standing and start from the bottom inside to ouside till all done. This you first bead.
Vous prenez le fil de métal sur lequel vous enfilez 10 ou 11 languettes en débutant par le haut.
Puis on enfile la première languette en passant du dedans vers le dehors. Vous faites ainsi jusqu'à l'avant dernière incluse.
On remets encore 11 languettes on enfile alors la 11 ième puis on continue avec les autres jusqu'à la fin.Vous avez maintenant votre première perle.
En images: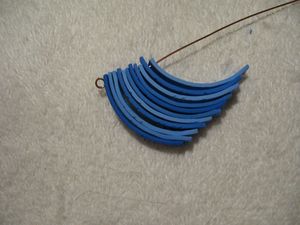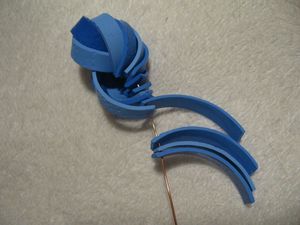 Le truc pour faire le collier continue ne pas enfiler la dernière mais enfiler les 11 suivantes, revenir chercher la 11ième et continuer. Recommencer à chaque perle.
La suite bientôt. Si vous êtes intéressées Madeleine se fera un plaisir de refaire sa démo lors d'un Clay day. Les dernières photos sont les essais de Louise.
Madeleine offered to make the demo again on a Clay Day.