Dates to note for the summer:
June 16 and 17 there will be an street sale plus an artist's walk on Victoria and Sherbrooke. (from 10 to 5). Gaby will demonstrate polymer clay in Studio E at the Visual Arts Centre.
Registration is compulsory and the cost is 10$.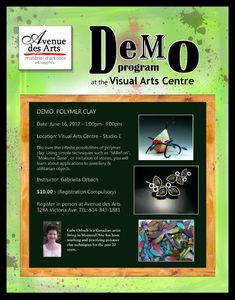 July 19th, Thursday, we will have a Bottles of Hope Workshop at the Cummings Centre for Seniors - any time after nine in the morning. Our hope is to make 100 bottles as the hospital is going through them quite rapidly - not a good sign for cancer - and we cannot only rely on Louise to supply them. More information to follow on this project. You can bring yourself, your friends (even if they do not know how to use polymer clay) and some canes.
July 28th, Saturday, Clay day at Nicole's Studio. Madeleine will show us how to construct Chinese lantern beads that can me made into a necklace. She demonstrated this technique a few months ago, but we will need a day to really complete a project. Let me know if you will attend this workshop.

Informations on what to bring coming soon.
Date importantes à retenir:
16 et 17 juin Vente de trottoir à Westmount sur la rue Victoria et Sherbrooke de 10 à 5.
Gaby en collobaration avec Avenue des arts où vous pouvez vous procurer plein de matos pour la polymère, fera des demos .Inscription requise et coût de 10$.
Le 19 juin, mardi au Centre des séniors Cummings journée Bouteilles d'espoir.L'objectif 100.
Amenez un ami. Apportez aussi vos vieilles cannes si vous en avez. Le reste du matériel sera fournit.
Lynda fournira des pâtes .
Le samedi 28 juillet à l'atelier de Nicole une journée patouille. Madeleine reprendra sa démo de perle coquillages. Elle vous aidera dans le pas à pas pour réaliser un collier. Attention les places sont limitées.