This month Cindy showed us how to make small containers.Cindy told us she wants to make a goddess vessel . This demo is her road to get there.
Ce mois-ci Cindy nous a fait une démo sur comment faire un contenant simple genre amphore.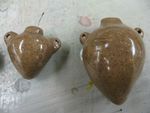 First you need half a pack of soft clay she uses Sculpey. Fimo soft or premo would work also. Baket it or Pluffy also . Il vous faut 1/2 paquet de pâte assez molle. Cindy utilise la Sculpey mais la bake it , la pluffy et la fimo soft fontionneraient aussi bien.
Make a ball with the clay. Using your fingers you make a whole in the center. Moving your fingers around you make the walls . It is called the pinch pot method. You slowly with the fingerspinching the clay to form the wall of the container. Pinching with the fingers of one hand and turning the base in the other. When the desired size is obtained you start to gather and pull the clay to form the opening, compressing and pulling as you go. Allways let an open space at the top. This keeps the air inside.
To cure put on a stick in the opening and cure upside down to keep the air trapped and keep the shape.
To make the handles , make 2 small balls , place them on the raw clay and poke to make the hole with a darning needle or other hole making tool. Press on the shape. Cure.
You can make the many sizes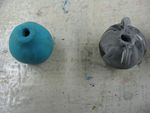 or as pendant
Première étape former une balle . Avec vos doigts vous façonnez un trou central et vous tournez doucement dans la main en pinçant pour faire les cotés de la forme. Vous pincez de façon le plus égale possible les murs du pot. Votre autre main supporte la balle vide qui se forme . Doucement vous rapprochez les bords pour faire le col. Allongez le col pour en faire un long tube en faisant attention de ne pas le fermer. Placez un objet dans le trou obtenu. Lors de la cuisson, placez l'amphore sans dessus dessous. Ceci permet de garder la forme et de ne pas la voir se déformer. Après la cuisson vous pouvez boucher le trou avec un bouchon de pâte ou de liège si vous voulez le porter comme collier.
Les manchons de chaque côté sont faits en faisant une petite balle de pâte et en les perçant avec une aiguille et en les collant bien sur la pâte avant cuisson.
À noter vous pouvez les faire en diverses grandeurs.
L'objectif de Cindy est de faire une déesse avec cette méthode. Il lui reste encore des solutions à trouver pour l'atteindre.