We were given a lot of polymer tricks this week with Vicki . I will list all them at the end so they will all be together when you look for them.
Nous avons été gâtées . Vickie a fait une superbe présentation .Elle nous a aussi donné des tonnes de trucs que je vais énumérer à la fin du texte sur la démo.
Vicki's creations will be in her album. I only took a few because the light is not good at the guild. Vous trouverez quelques photos des oeuvres de Vicki dans son album.
Vicki showed how to use wire with polymer clay to make a pendant. For tools look up the list in the previous message.
Vicki nous a fait la démonstration de son utilisation du fil métallique et de la pâte liquide.Les outils requis sont dans le message précédent.
First you cut the wire a bit longer than the shape you want to make, You bend the wire using the round nose plyer. You bend one of the sides, than make a loop ( this will be your bail) you bend it to the side and make a loop . You take the second side and twine it with the tool or by hand if your wire is soft enough.Then you place it on a tile, cover the wire with liquid clay ( the edge) then fill in the center.You can use a paintbrush to make ti evenly distributed. Cure for 30 minutes at the temperature required by your liquid clay make. You can tent it with an aluminium sheet to stop from curing too much.
Vous coupez le fil de métal plus long que requis , Vous pliez le fil en 2 avec la pince ronde.D'un côté vous faire un crochet que vous arrondissez et placez sur le côté du fil. Avec le second côté vous enroulez sur la base du fil plié . Enroulez avec les mains ou les pinces selon la souplesse du fil. Vous placez la forme obtenue sur une plaque de céramique . Vous répandez en petites quantité votre pâte liquide sur le fil métallique . Puis vous remplissez au centre. Vous pouvez aussi étendre après avec un pinceau. Cuisson environ 30 minutes. Lorsque refroidit vous pouvez écrire sur la pâte liquide avec le crayon que mentionne Vicki dans ses trucs.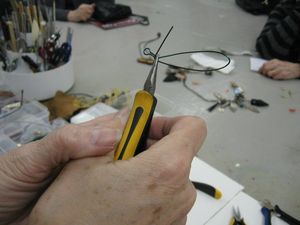 When done you can write on the sheet * then add some more liquid clay and cure again. On the firdt sheet you can also put pieces of tissue paper or any other interesting paper or words you like.Then you add the liquid clay and cure again*.
Quand c'est complètement sec vous devez ajouter une seconde couche de pâte. Puis recuire .*
To make faux metals Vicki uses what she calls her tear and stack method. She uses metallic clays and mix them up. She prefers kato clay but uses premo also.* Her recipe for the little book
is gold at number 2 +black at number 9 ( thinnest) stack add also scrap canes or bits and pieces. She stampes on the clay (with a inny made in scrap clay with the stamp to get a raised effect.) For the pages she uses faux bone colour. She finds white to starck. Stacking then and tearing. She applies her stamp and the blue ink residue stays on. The faux leather is applied on the top end of the book.
Then curing.
For the second project the roller, tear, stack method again but this time you use gold, copper and another metallic clay of choice.You stack then tear , restack( repeat as many times you like to get the desired effect) press with the rollor and start over till you get the desired effect. Vicki incorporates alao bits of scrap clay, old canes.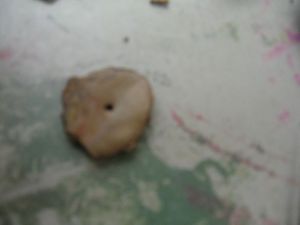 (Sorry the photos for this demo or not good). Vicki likes rough edges as you can see. Next you poke, cut and probe le circle. To get this shape.Vicki also cuts and makes holes and distresses the surface. She adds also 2 little balls ( in the back and the front of the bead).
Then you mix a formula of liquid clay using 9 parts liquid clay and one part cheap white Oil paint.
You apply in the center bake 10 minutes* then she adds her second formula same measures but with another colour. She keeps her formula in a small plastic container. *Then cure it 30 minutes or as required by the maker of your liquid clay.
Série faux métal :Vicki adore faire du faux métal. Elle utilise des pâtes métalliques premo et kato.Voici sa recette pour le petit livre:
La base de pâte dorée (plus épais ) et de pâte noire ( plus mince). Elle les empiles et passe le rouleau dessus. Puis elle déchiquette la pièce obtenue et elle empile à nouveau, puis passe le rouleau. Elle répète ceci quelques fois.
Elle applique une étampe qu'elle a faite d'une autre étampe mots pour avoir des lettres en surface.Elle utilise la pâte faux os au lieu de blanc pour les pages.Applique son étampe qui garde encore des traces d'encre sur les pages( feuilles ) empilées . Elle rabat la partie cuivrée pour faire le dos du livre.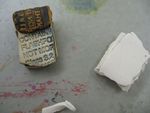 Elle répète l'opération dans le cas de la pièce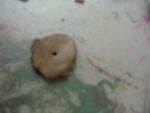 en ajoutant des vieilles cannes, des morceaux de pâte métallique de diverses couleurs. Ses empilages et déchirages sont alors répétés plus souvent jusqu'à l'obtention de l'effet désiré.Elle fais aussi diverses découpes , fait des mini perles au devant et au dos de la pièce.
Pour compléter cette pièce elle a un mélange pâte liquide et peinture à l'huile d'un ratio de 9 pl pour 1 de peinture.Une fois la pièce cuite elle applique au pinceau une couche de pl colorés et cuis 10 minutes. Une fois la pièce refroidie elle repeint avec une seconde couleur pour obtenir après cuisson ( 30 Min) cet effet.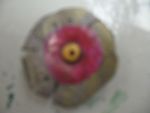 Tricks of the trade:
To write on clay she suggests: Fabercastel lightfast waterproff pens
Pour écrire sur la pâte liquide son choix va aux crayons feutres Fabercastel ( avec les mots lightfast et waterproof)
To colour the liquid clay use cheap oil paints. Pour colorer la pâte liquide de la peinture à l'huile à prix modique .
With the flat nose plyers take off the ridges it marks the wire. Limez les pinces à bijoux qui ont des rayures, ceci empêche que vos métaux soient rayés.
To coil you own jump rings wear gloves. Lorsque vous faites vos propres anneaux en métal utilisez des gants surtout avec les plus gros fils.
Jump rings and bails: It's easier to find the size you want when you make your own. Pour avoir les grosseurs qui vous conviennet apprenez à faire vos anneaux.
When you push a bale in the clay slit the clay before inserting the bal it doesn't put the clay and deform the shape. Si vous désirez faire entrer un anneau dans la pâte ne l'enfoncez pas . Prenez le temps de faire une ouverture avec votre lame. Vous n'aurez pas alors repoussé la pâte vers l'intérieur et causé une déformation.
When making a bracelet with holes, keep a piece of the scrap, used it to make the distance of the holes and insert T pins. This way you will allways know where to make your holes when you make sides to the plaques. Si vous désirez réaliser une bracelet plaque, utilisez pour la base des restes de pâte. Pensez aussi à faire un gabarit avec un morceau de restes et enfoncez-y des épingles à macramé en T pour montrer l'endroit de vos trous dans votre base. Plus besoin de les chercher si vous recouvrez le pourtout pour un beau fini.
Vicki prefer sanding and buffing to varnishes her other product is called Conservator wax.You can find it here: http://www.leevalley.com/en/wood/page.aspx?c=&p=20090&cat=1,190,42950&ap=1 . Vicki préfère utiliser la polisseuse ou la cire Conservator wax.
Vivki makes her own signature instead of using a stamp or ingraving . Vicki est partisane de la signature sans étampe ni gravure dans la pâte..
Last work take the time to finish well your pieces it pays off. Mot de la fin pour être pro finissez votre travail comme une pro, c'est payant en bout de ligne.