Welcome back to the new year at the guild.
Note: I mentionned during the meeting the Crafty goat blog for the pens you could cover here is the link.Si vous recherchez les stylos qui fonctionnent avec la polymère lisez les commentaires de Crafty Goat
http://craftygoat.com/2010/07/covering_pens_with_polymer_cla.html
Bon retour de vacances . Il nous manque des démonstratrices pour la prochaine session ,offrez-vous.
Louise has been doing bottles of hope allmost since the beginning of her being a member of the guild.
Here is her basic way to go about it. Louise fait des bouteilles d'espoir depuis presque ses débuts à la guilde. Voici sa façon de faire.
How to do a bottles of hope using the twist top bottles.Comment recouvrir une bouteille avec capuchon vissé.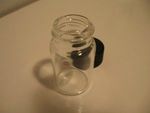 Decide beforehand how your bottles will be: straight or laying down. Choisissez dès le début dans quel sens vous utiliserez votre bouteille: debout ou couchée.

Choose the clay you will be using. Louise loves old clay but does use canes also made for a specific project. If you want to try a new technique it's a great time to do it in small quantity.

Choisissez les pâtes que vous utiliserez. Louise utilise des restants de pâte ou fabrique des cannes si elle a un thème particulier.Elle teste aussi de nouvelles techniques en petit format.
A sketch is also a good idea.

Se faire une carnet d'esquisses ou d'images est aussi une bonne idée

.
Using the template cover the bottles from top to bottom Use thinkness between 1 to 3 depending on your project.1 being the thickest.

Avec le gabarit recouvrez la bouteille de haut en bas. L'épaisseur est entre 1 et 3 selon le projet. D'épais à plus mince.

Seal the edge where the clay meets rubbing with your finger. Trim bottom and top . Cut following the twist top line with the blade

.Scellez le lien en frottant avec votre doigt. Enlevez le surplus sur la base et le haut du couvercle. Enlevez le surplus sur les dessus du couvercle et sur la base avec la lame.

If you want a higher structure you can add clay or use a half toothpick that you place in the middle of the top. The whole is punched with a piercing tool.

Pour faire une structure plus haute vous pouvez ajouter de la pâte sur les extrémités ou pour le dessus faites une trou dans le couvercle avec une perceuse manuelle et placez-y un demi cure dent.

You can cover the top using a ball a clay or a flat shape using the cover as template.

Vous pouvez recouvrir les extrémités avec de la pâte( une boule ) ou avec une forme plate utilisant le couvercle comme gabarit.

The next part is your own creativity at work

. As you go along to build your creation be sure to

check if the cap still opens easily

. Maintenant laisser aller votre créativité.

Attention de toujours vérifier si votre couvercle peut s'ouvrir pendant que vous construisez votre oeuvre.

Cure.

Cuisson.

For a more interesting effect use a patina. Then varnish when required

.

Pour un effet plus attirant l'usage de la patine est très intéressant suivi du vernis si vous aimez cet effet.

Bottles can be simple or not

. Les bouteilles peuvent être simples ou non.

Cristalline a un tuto plus élaboré en utiisant une autre forme de bouteille
http://cristalline.blogspot.com/2011/04/ohhhhhh-un-tutooooo_22.html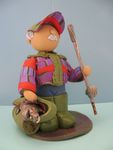 To see more /Pour en voir plus http://polyblog.canalblog.com/albums/colliers/index.html
So happy got 1 new member hooked: look at Vicki's bottle