This month we had two new versions to add to the mokumé gané list.
Pixie showed us two versions made with translucent clay.
Ce mois-ci nous avons 2 exemples du Mokumé gané version Pixie.
The first is the tube, the second the sheets .
La première est la technique en tube , la seconde en feuilles
You can find the materials in the predecent message.Vous trouverez les matos dans le message précédent.
The tube/ Le tube
Using your four sheets cover one or all with metal sheets.The effect changes depending on how many metal sheets you use. This project can also be done without the metal sheets.
Recouvrez vos 4 feuilles de feuilles métalliques. Vous pouvez aussi en mettre moins ou pas du tout. Pixie a utilisé de la pâte trans coloré pour sa démo. Sa pâte était de la fimo mais les autres fonctionnent tout aussi bien. Si votre pâte est trop molle mettez la au réfrigérateur quelque temps avant de trancher.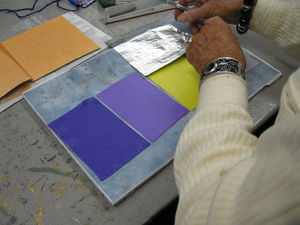 Stack the sheets, roll to eliminate air bubbles. Roll the stacked sheets tightly .
Passez votre rouleau après avoir bien empilé vos feuilles pour enlever les bulles d'air.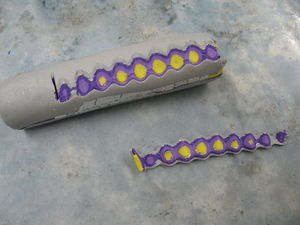 Using your large wavy blase cut on the side of the round cane you made .
Avec une lame ondulée assez large vous aurez divers effets à mesure que vous coupez sur le côté de la canne obtenue.
Each slice will give you another effect.
When you pass it through the pasta machine the ripples will be different. Have fun experiment!
Comme vous voyez chaque tranche est une découverte.
Lorsque vous les passez dans lamineuse ( machine à pâte), vous obtenez des effets différents .
Here Pixie showed us another way to cut the plug . She bent it on her finger before she cut.
Une autre variante , Pixie coupe en plaçant le tube sur son doigt.
Demo number 2 the traditional.
La traditionelle
Repeat the steps from the first section till you get to the stacking of the sheets.
Répétez les étapes réalisées dans la première section jusqu'à l'empilage . Coupez vos feuilles en 2 et empilez le tout.
Pixie cut her sheets in two before stacking so your stack should be smaller but thicker.
Put under the 6 balls of translucent clay. Press the sheets on the balls then turn it over and start to cut.
Vous placez maintenant sous la feuille épaisse obtenue , les 6 balles de pâte trans pures .
The bumps here are the 6 balls underneath.
Les bobosses doivent être retournées à l'envers. Vous pouvez maintenant découper.
HAVE A NICE SHARP BLADE to do that project it will work much better, right Pixie?
Thank you for sharing.
Il est primordial d'avoir une lame au tranchant impeccable pour ces 2 techniques.