Anne Misnash showed us her artistic experimentations on a theme.
Anne nous a fait découvrir sa démarche créatrice à partir d'un collier qui la fascinait.
She had found a chunky necklace she liked. She wanted to reproduce with clay and glass cabochons and other materials what she had seen and liked. She loves to recycle beads and use what she finds everywhere and put them together.Here is what she made with the technique.
Voici ses résultats avec ses essais.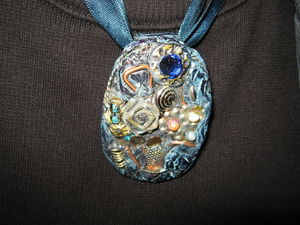 Elle utilise de la pâte polymère ( scrap pour faire une grosse perle) Elle y enfonce ses éléments puis les entoure d'un colombin. Elle passe un morceau de bambou au centre de la perle pour faire le trou et cuit.
Elle peut aussi vieillir sa pâte avec de la peinture acrylique et du rub and buff avant cuisson.Les éléments suivants ont aussi été utilisés.
Anne used found objects, and glass cabochon and this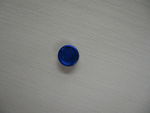 to make her huge beads.She embeds them in the scrap clay, puts a snake of clay around the beads , uses acrylic paints and run and buff to embelish them.
Her creations are mostly chunky , recycled and one of a kind.
Coming up in another message you will see how to make her metalwire beads.
À suivre dans un prochain message comment réaliser ses perles en fil de métal.
Thank you Anne.