Since I cannot teach and take pictures you will find pictures of what I showed you and more under this link.
Every thing you want to know on clay guns and their use.
Feel free to go see the pictures in the French link below for more pictures.
http://www.glassattic.com/polymer/claygun.htm
Photographier et montrer les deux en même temps ça ne focntionne pas, alors allez ici si vous voulez voir en images.et autres trucs ici http://paroledepate.canalblog.com/archives/2007/12/26/7348980.html
For more good info on the clay gun use
http://polymerclaysmooshers.blogspot.com/
and here
http://2goodclaymates.blogspot.com/2010/03/tutorial-extruded-swirl-cane.html
and I showed you this.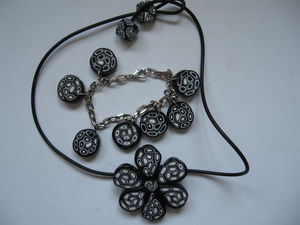 Les perles que l'on peut réaliser
En français je vous redirige sur mon blog en date du 13 avril
.