At our last meeting Cindy was generous enough to show us her 3 methods to do mokumé gané using translucent clay ( she used kato but prefers sculpey, she said it gave a better effect).
Cindy nous a fait la démo du mokumé gané avec feuilles de métal et pâte translucide ce mois-ci.
Cindy's general info: the clay you use underneath is important. It has to go with the metal sheets you will be using.
Ses conseils généraux pour couvrir des oeufs. La couleur de fond est importante . Attention aux couleurs de feuilles utilisées pour un meilleur résultat.
The finer the cut the better the results. Plus la coupe est fine meilleur est le résultat.
For the eggs a sheet of translucent was applied on the slices to protect the metal sheets. Afin de couvrir des oeufs, les feuilles de pâte trans recouvrent les feuilles de mokumé pour protéger les feuilles de métal.
Be careful translucent clay is fragile and can rip easily when thin. La pâte translucide est fragile et peut facilement déchirer quand elle est mince.
For eggs : blow the egg content, rinse and let dry for a week. Prepare it by applying glue, let dry then apply the first layer of clay, cure then cover with the translucent. Les oeuf doivent être vidées, bien rincés. Laisser sécher au moins une semaine avant de recouvrir de pâte polymère.
Go s l o w l y eggs are so easy to break. Cure before putting on the second coat of clay or veneer.
Allez-y mollo quand vous appliquez la première couche de pâte.
Cuisson puis appliquez la seconde couche, le mokumé.
The finished products with each techniques:Les résultats selon les 3 techniques décrites.
On top the stack, middle the plug, bottom wavy blade.
En haut la méthode empilée, au centre le rouleau et en bas avec la lame ondulée.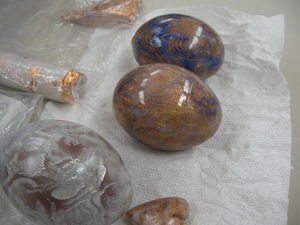 Method 1 The stack. La méthode empilée
Material for all : translucent clay 2 packs and metal sheets ( gold ,copper or silver depending on the effect wanted.) Matériel requis, pâte translucide environ 2 pains et des feuilles de métal pour les 3 projets environ 1 paquet de 20 feuilles) , feuilles de métal ( or, doré ou autres) Cindy préfère la sculpey lll.
Prepare the translucent sheets , making them the thinest you can with the pasta machine. Préparez des feulles de pâte translucide à l'épaisseur la plus mince que vous pouvez atteindre avec votre mp.
Make a long sheet. Apply on it the metal sheets one next to the other for a continuous work. Préparez votre pâte en longues tranches. Appliquez les feuilles de métal de façon continue.
Cut the sheet into 4 inches squares. Pile them together.Be sure to get the bubbles out of the stack. Coupez en carrés de 4 pouces de large. Empilez . Assurez-vous de retirer les bulles d'air.
When your stack is done poke wholes in the stack. Faites des trous de façon aléatoires sur le dessus.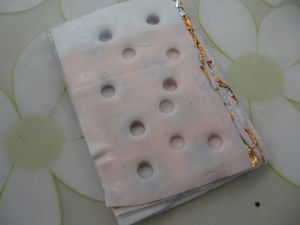 Using a thin roll of translucent clay fill the holes with the clay.Avec un colombin de translucide bouchez les trous.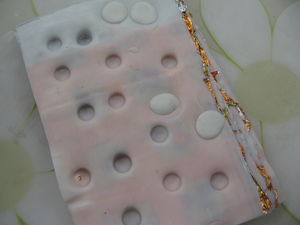 Turn on the other side and press on the bumps to create shifting. Retournez, puis poussez où vous avez placé les colombins pour fcréer un déplacement.
With a sharp blade cut fine strips o the top of the stack and apply to desired surface. Avec une lame bien affutée coupez de fines tranches sur le dessus et appliquez sur la surface désirée.
Trick: If you use a round container you can put the clay on the surface and pull the blade toward you for better control of the cutting.Pour aider au tranchage, placez votre pile sur un objet courbe et tirez la lame vers vous. Ceci donne un meilleur contrôle de la coupe.
Method 2 the roll:La spirale
You do the same for this method as the first part of the above version. After you have applied the metal sheets you roll thighly like a jelly roll. Le début est le même que pour la méthode 1 sauf que vous n'empilez pas, vous roulez la feuille pour faire une spirale.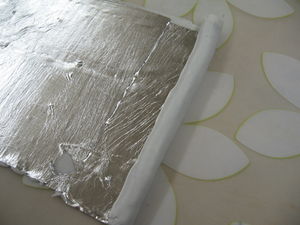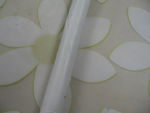 The cuts on this one are done straight or on a diagonal slant. La coupe peut se faire droite ou en diagonale.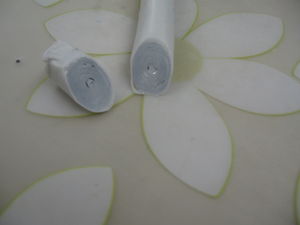 Trick: for another effect you can pass the cut slice in the pasta machine . That willl elongate the form and give you something interesting. Afin de réaliser un effet différent passez vos tranches dans la machine à pâte.
Méthod3 The Wavy blade way . Avec la lame ondulée
You do the the process as in the first method then you cut the stack with a wavy blade.You don't have to cover both sides of the stack like in the first version with translucent clay. Répétition de la méthode 1. Ne recouvrez pas la dernière tranche de pâte translucide.Tranchez avec la lame ondulée de biais.
Trick :If you cut the stack from the top you get a faux wood effect. En tranchant sur le dessus vous aurez un effet de faux bois.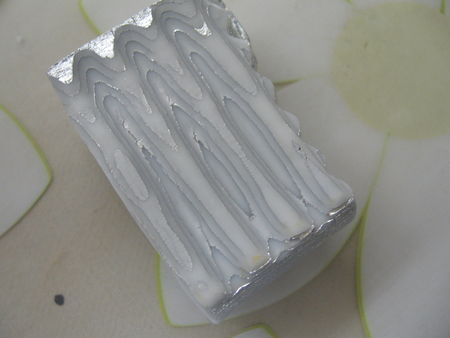 Have fun and if you do something different let us know.
Amusez-vous à découvrir et si vous découvrez autre chose faites nous en part.