Josiane did this demo at our last meeting of the year.
Un gros merci Josiane ce fut un tuto qui en a mis quelques unes en pâmoison.
We are publishing the pictures and text with the permission of Cristalline.
Grâce à la gentillesse de Cristalline nous vous montrons les étapes de la méthode montrée par Josiane lors de notre dernière rencontre de l'année.
Tuto extrait du blog : Parole de Pâte http://paroledepate.canalblog.com/archives/2009/01/14/12034710.html
Il a été rédigé par Cristalline ( http://cristalline.blogspot.com/ )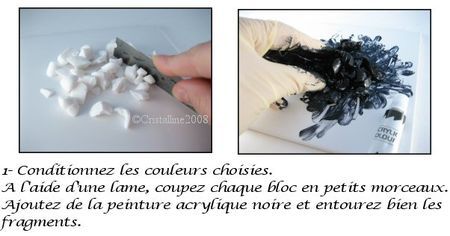 1 - Condition the chosen colors.
Using a knife, cut each block into small pieces.
Add the black acrylic paint and coat the pieces well.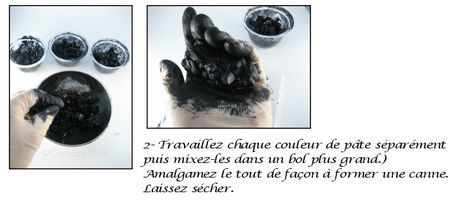 2- Work each color of clay separately, then mix them in a bigger bowl.
Assemble them to form a cane.
Let dry.
Plus les morceaux coupés sont gros, plus ils seront visibles dans la canne
et moins il y aura de lignes fines.
The larger the pieces the more they are visible in the cane and fine lines are fewer.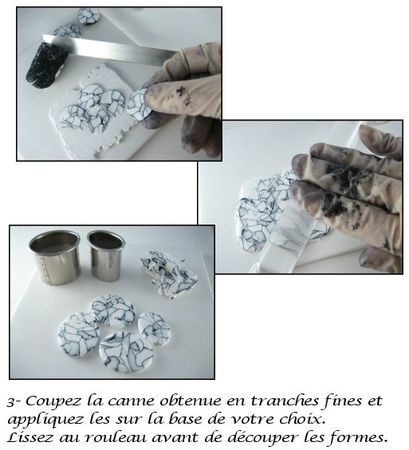 3 - Cut this cane into thin slices and apply them on the surface of your choice. Smooth with the roller before cutting shapes.
3 effects.
Blanc + translucide / White and translucent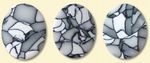 Blanc + translucide + pailleté / White + translucent + translucent with glitter.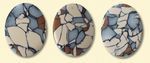 Translucide + beige + cognac / Translucent + beige + cognac ( fimo colours)