At our last clay day Louise showed how to make a brain cane.
Below you will see our work. With the brain cane even if you do it wrong you get something superb.
Thank you Louise!
+++++++++++++++++++++++++++++++++++++++++++++++++++++++++++++++++++++++++++++++++
Lors de notre clay day jeudi dernier, Louise nous a fait une démonstration magistrale de la cane cervelle. Vous pouvez la voir ici nous présenter la marche à suivre, et par la suite apporter son aide active aux participantes. Merci Louise pour ce superbe partage !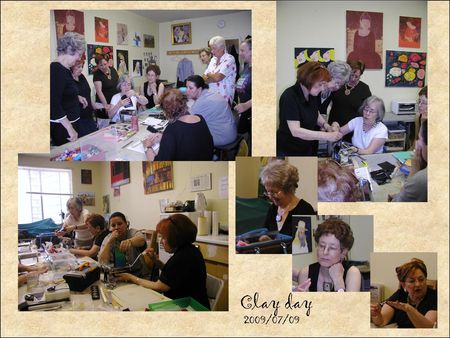 Et voici les réalisations des unes et des autres (Toujours des réussites même quand on se trompe!!!) Admirez: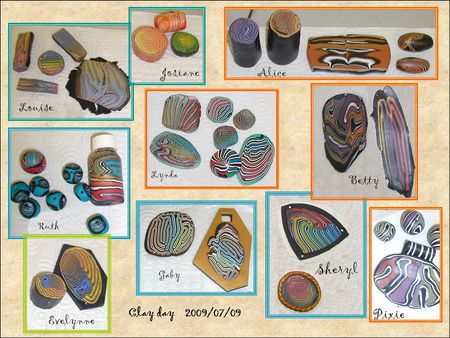 Pictures by Josiane.
Here are some mixes tried at Morrisburg some years ago. Maybe you try them and add yours.
Most of them a pearlized I will put a * when it's a mix.
Fuschia, pink pearl, fuschia pearl * ( means 1part pearl/1 part of the other colour).
Fuschia , baby pink, gold.
Fuschia, violet* pearl, blue pearl,green pearl.
Red pearl, gold, blue pearl
Red , yellow, blue pearl* ( each mixed 1/2 of each)
Gold, pale grey pearl, pale lavender pearl,
Alazarin, red mixed with blue pearl.
Gold, silver, red pearl, purple pearl,
Gold, Ultramarine, copper.
Blue and silver
White pearl, silver, copper.
Copper and green
Kaki green, copper and silver.