We had our meeting March 31 but it is the April meeting.
It was a great meeting. We had time to show and look and discuss our pieces. Thank you to all who did bring something
Louise has competition with her bottles of hope, Josiane is the new bottle lady.
Look up the new photo albums on the page. There are great things to look at.
The session about Dollarama finds was lots of fun.
Go see what our friends from Ontario found, follow the link on the page.
We discussed tricks and I will make a special mention on my next message about them.
Thank you to all participants.
*********************************************************************************
Une rencontre des plus fructueuses.
Les oeuvres de nos artistes furent admirées , discutées .
Le Dollarama fut découvert a travers divers objets et leurs applications en polymere.
De nouveaux dossiers sont ajoutes dans la section albums photos, allez vous rincer l'oeil!
Josiane est une autre "fabriqueuse: de bouteilles d'espoir. Premiers essais, premières merveilles.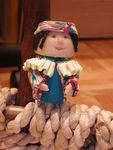 Je vais ajouter un article special pour nos trucs si vous voulez les consulter.
Merci a toutes.