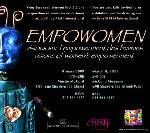 Come see our artists Ann and Gaby
Exhibition Auction at McCord Museum March 8
Artistri and FEM International, a non profit organization committed to empowering women around the globe through sustainable entrepreneurship, cordially invite you to commemorate International Women's Day at the launch of the exhibition EmpoWomen: Visions of Women's empowerment. This "Exhib-Auction", which will be presented at the McCord Museum on March 8th , will feature 20 specially-commissioned works by local craftswomen and artists. All pieces have been donated by the artists and will be for sale; proceeds will go to the FEM International. The goal of this campaign is to raise money to train 101 women locally and abroad in means to achieve financial independence by the stimulation of sustainable entrepreneurship practices.
The EmpoWomen exhibition aims to provide a forum for women craftspeople, designers and artists and creators of all kinds to express their vision of women's empowerment in the artistic medium of their choice. EmpoWomen: Visions of Women's Empowerment will reflect contemporary craftswomen's ideas about women's empowerment, its nature, causes, results, and provide an inspiration to change.After March 8th, the exhibition will move to Artistri Atelier-Boutique, located at 5319 Park Avenue, where it can be seen until March 26th.
Gaby et Ann exposent
Exposition Encan au musée McCord 8 mars
Artistri et FEM International, une organisation sans but lucratif, dédiée à l'autonomisation des femmes dans le monde, vous invitent cordialement à commémorer la journée internationale de la femme lors du lancement de l'exposition EmpoWomen: « Visions sur l'empowerment des femmes »
Cette "expo-encan", qui aura lieu au Musée MacCord le 8 mars, présentera des œuvres spécialement réalisées par des artisanes et artistes locales sur le thème de « l'empowerment au féminin ». Toutes les créations sont des dons faits par les artistes et seront à vendre. Les profits seront reversés à FEM International.
Le but de cette campagne est de ramasser l'argent nécessaire pour former 101 femmes, ici et à l'étranger, afin de leur permettre une indépendance financière en utilisant des pratiques d'entrepreneuriat durable.
Cette exposition constituera une vitrine pour les femmes « artistes et créateurs » de toute horizon afin d'exprimer leur vision sur l'empowerment des femmes à travers le medium artistique de leur choix. Cet évènement réunira les femmes, d'ici et d'ailleurs, en
leur donnant la parole pour exprimer leur histoire personnelle dans leurs propres mots. Un des buts de l'exposition est de proposer un regard nouveau et différent sur l'art et l'empowerment.
Empo-Women: « Visions sur l'empowerment » reflétera la vision contemporaine de femmes artistes et artisanes sur l'empowerment des femmes, sur sa nature, ses causes et ses résultats ainsi que sur les aspirations qui les poussent vers des changements.
Après le vernissage, l'exposition sera présentée à « Artistri », atelier-boutique au 5319 ave du parc et se poursuivra jusqu'au 26 mars.