Clay buttons are so very easy to make.
They require very few elements to make them.
Some clay ( fimo original, kato, premo, studio), your hands, a roller,cookie cutters , a piercing needle, and an oven that is it.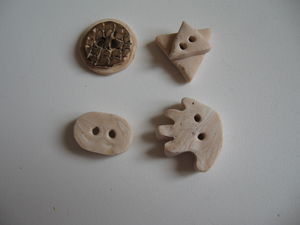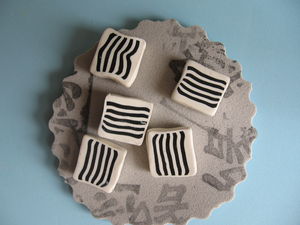 If you want them more complicated you can add a perl ex, texture sheet,stamps, molds, acrylic paints,canes varnish and a shank to put in the back .
Any technique can be used to make buttons.
How to take care of them: Washable in the machine , gentle cycle.
If you have not varnished the ones with a finish on top they will eventually become flat.
***************************************************************************
Faire des boutons en polymère en un clin d'oeil
Il faut de la pâte polymère dure( fimo originale, kato, premo, studio) , vos petits doigts, un rouleau, une aiguille pour percer et un four pour faire cuire, voilà!
Avec un simple colombin vous avez ceci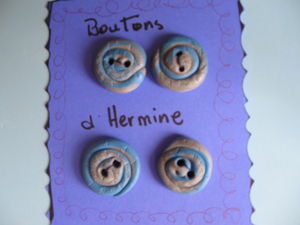 Pour les faire plus compliqués , des moules ,des textures , des emportes-pièces, de la poudre métallique, des peintures acryliques, vos cannes, un vernis, une rondelle double pour faire le trou en dessous.
Toutes les techniques que vous connaissez peuvent être utilisées pour faire des boutons.
Entretien: Les boutons en polymère peuvent être lavés à la machine , lavage doux.
Les boutons avec des textures en surface peuvent perdre leur fini s'ils ne sont pas bien vernis.
Trucs de base : Basic tricks
Cuire plus longtemps qu'à l'ordinaire à température plus basse un peu. Si vous utilisez de la pâte trans, recrouvrez au moment de la cuisson. ***Bake a bit longer than your regular baking time at a bit lower than the suggested time to cure. If using translucent clay cover them so they don't overcook.
Pour les pâtes fragiles les mettre plus épais.Les meilleurs pâtes sont des pâtes dures, fimo, kato, premo et studio**** The best clay for buttons are premo, kato anf fimo classic, studio .
Vous pouvez laver vos boutons à la machine avec un savon doux et les passer au séchoir sans danger, attention si vous utilisez des apprêts ( perl ex, vernis, encres, peintures) lavez-les à la main et pas de séchoir. Vous pouvez aussi les vernir**** To clean : delicate detergent and washing machine and dryer .Do not use perl ex, embossing powder or anything that can be rubbed off, if you do use a good varnish..

Demo in pictures:
1. make a little ball of clay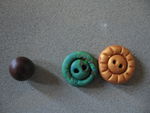 2. Press with your finger to make it flat.
3.Put a small round kemper tool in the center,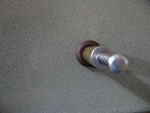 4. Make the holes.Check them at the back.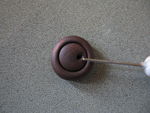 5. Bake and go. As you can see in the first picture using other colours changes the effect . You can add texture with the needle to make something else.
Easy with a cane:
If you know how to make canes welllllll that is easier. Just cut a fairly thick slice about 1 cm, make two holes and you are done.
To make bigger buttons you can use bigger canes, molds of big buttons or use cookie cutters. Stack them, decorate them .
"""""""""""""""""""""""""""""""""""""""""""""""""""""""""""""""""""""""""""""""""""""""""""""""""""""""""""""""""""""""""""""""""""""""""""""""""
Façon simple 1:
Une petite boule de pâte ( photo1) pressez avec le doigt un peu, placez un emporte-pièce rond au centre pressez délicatement ( photo2) ,faites les trous avec une aiguille à bout rond.( photo 3), vérifiez au dos si c'est droit. Cuisson.
Vous pouvez jouer avec les couleurs ainsi que texturer la surface de votre bouton. Comme dans la photo 1
Façon simple 2
Vous avez de vieilles cannes alors coupez une tranche d'environ 1 cm, percez les trous ,vérifiez au dos, cuisez et voilà.
Façon simple 3
Vous désirez un plus gros bouton, faites votre plaque de baseà l' épaisseur la plus large de votre machine à pâte, coupez avec un emporte pièce désiré. Faites les trous et cuisez.
Vous pouvez utiliser toutes les techniques connues pour faire vos plaques . Vos boutons n'en seront que plus intéressants.
Façon avancée
Cette façon consiste à faire un bouton avec attache au dos.
Il faut : un bouton de métal vide que vous pouvez recouvrir de pâte .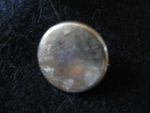 Attention vous devez couvrir le devant et le derrière sinon à l'usage vous perdrez la partie du dessus.
Vous pouvez utiliser un anneau double au dos pour avoir un chas à l'arrière. Pour ce faire vous creusez une rigole au centre du bouton.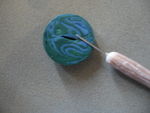 Vous glissez l'anneau.
Vous solidifiez avec un petit morceau de pâte que vous passez dans l'anneau.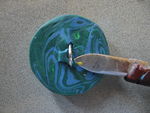 Frottez pour enlever la démarcation. Cuisson à l'envers pour ne pas que le bouton change de forme.
Avec moules: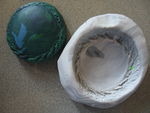 Une prochaine leçon montrera comment les faire*
Dans le moule choisit mettez de l'eau, du talc ou encore du armor all.
Placez la boule de pâte et enfoncez bien dans le moule, retirez délicatement, faire les trous ( méthode simple)
Avec cette méthode vous pouvez utiliser des peintures acryliques, jouer aussi avec la pâte liquide et des inclusions pour faire divers effets.
Des questions ? laissez un commentaire et on vous répondra.